Posted by Joe Delbridge on Jan 20th 2020
A well-designed trade show display can leave a lasting impact on showgoers. Here are some of the best trade show displays of 2019.
The best trade show displays don't necessarily need to be the flashiest or most expensive. Oftentimes, the most memorable exhibits are those that make the viewer feel something unexpectedly or stand out in a certain way from the competition. Here we highlight some of the best trade show displays of 2018 and explain how you too can make a kick-ass booth for your next event.
Best Showgoer Experience: 2K Games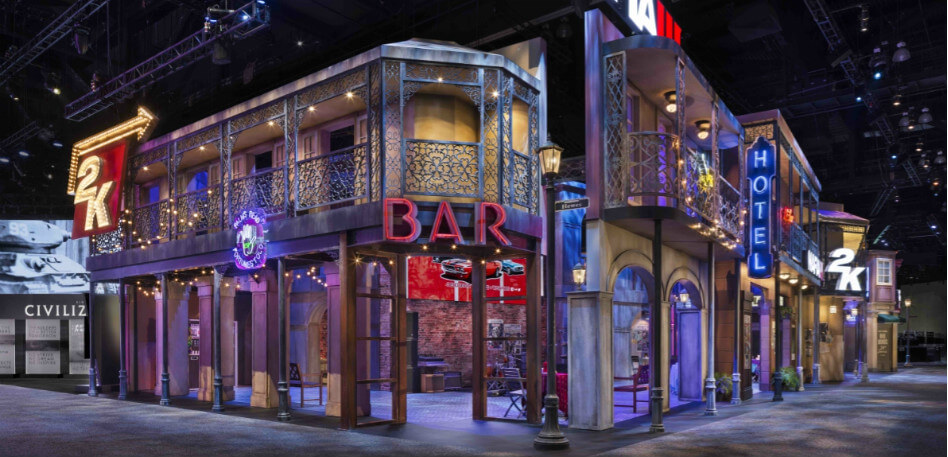 In our last blog post about how to plan trade show displays, we discussed the importance of giving showgoers an enjoyable and fun place to retreat in a hectic and exhausting showroom atmosphere. What better way to make people happy than to throw them a party?
2K Games hypes the release of its popular crime saga, Mafia 3, by recreating a 1960's era New Orleans street corner, mirroring the setting for the game. Although the visuals alone are impressive, 2K went a step further and included a live jazz band, fortune tellers, and a Mardi Gras party to give fans an unforgettable experience.
Focusing your exhibit on fun will make your business memorable and will set you apart as one of the best trade show displays.
Best Accessibility: PharMerica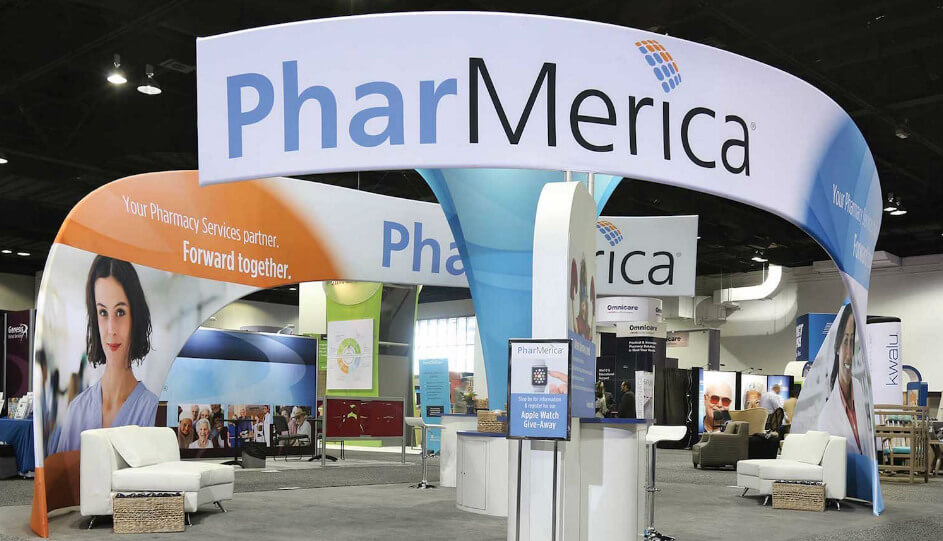 Bottlenecked foot traffic blocking access to your booth on a show floor is obviously undesirable. PharMerica circumvents this issue entirely with a sweeping 3-D design and open archways.
It keeps the layout simple with a few desks and couches, but the intriguing design provides both a large promotional platform as well as open access to the displays and exhibitors below. PharMerica is a great example of how stellar design work and planning make the best trade show displays both attractive and functional.
Best Use of Technology: Brazil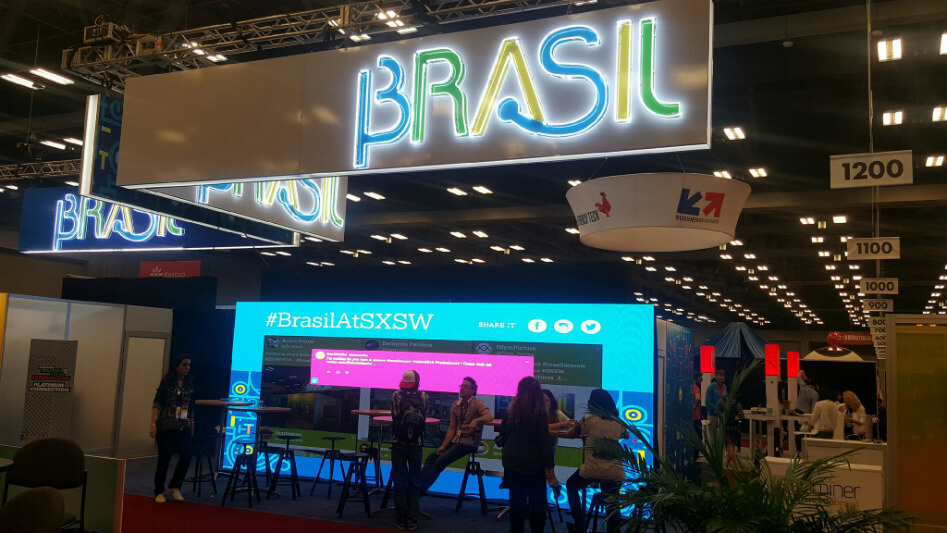 The Official Delegation of Brazil makes a splash at South by Southwest Conference with its interactive wall displays.
Designed by Matrix Visual, the two wall displays featured a continuous stream of social media posts via Facebook, Instagram, and Twitter connectivity; all visitors had to do was post using the hashtag #BrasilAtSXSW and they could instantly see their musings displayed.
Creatively implementing technology and social media into your exhibit allows you to extend your reach beyond the showroom. Pictures and posts about your display help drive online discussion and awareness of your brand.
Best Use of Lighting: Philips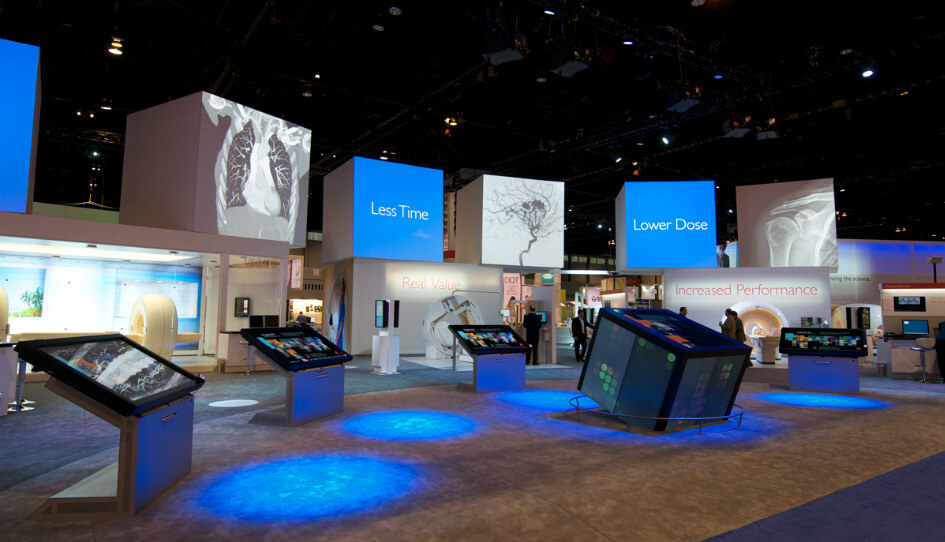 Good lighting is crucial for visibility in a display, but that doesn't mean you can't have some fun with your lights in the process.
This Philips display from PlexGroup makes use of colored spotlights and projections of x-ray images, and digital displays to really create an eye-popping effect.
When planning displays, there's more to consider than overhead lighting alone; consider areas where incorporating backlights, spotlights, or LED boards makes sense. Just don't do strobes; you're not at a rave, buddy.
Best Visual Effect: Studio Dega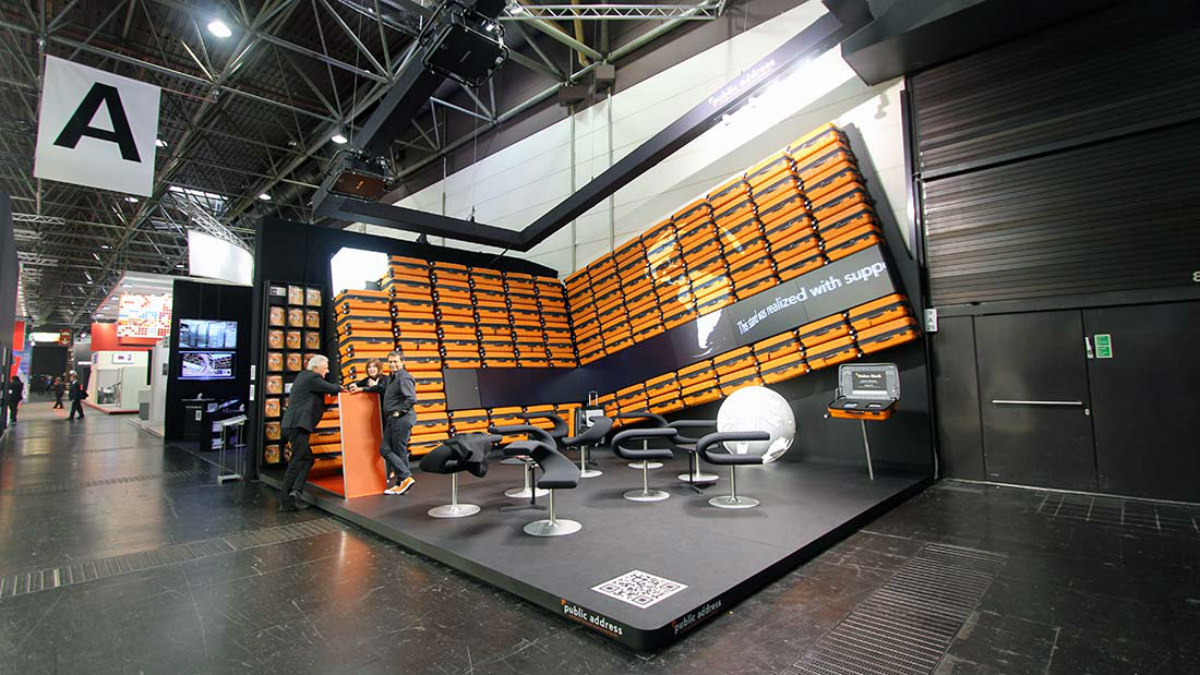 Something as simple as playing with angles can really make for a stunning visual effect.
Russian design firm, Studio Dega, created this mind-bending display by tilting back a giant rack of orange luggage and setting it on a diagonal. It's a small adjustment, but it defies expectations enough to force showgoers to do a double-take (and question their sanity)!
If you have a product or service that does not lend itself well to demonstrations or displays, you can still compete with the best trade show displays by making bold and unexpected design choices.
Most Creative: Nintendo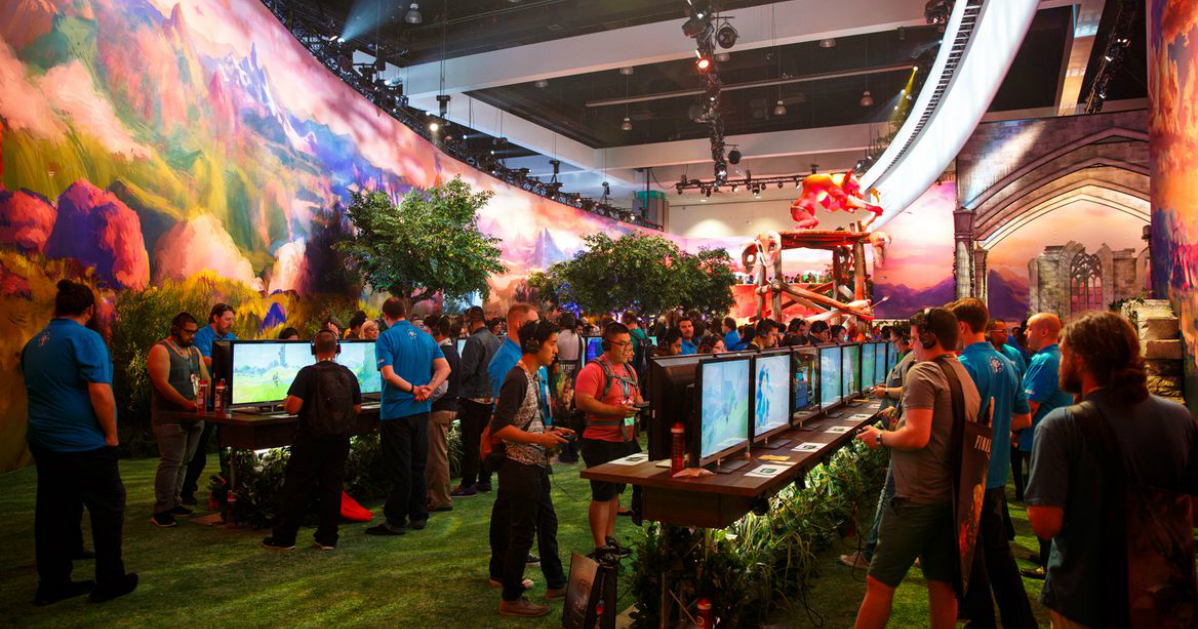 When it comes to creativity, it's hard to top Nintendo and its all-star lineup of video games!
After revealing the trailer for The Legend of Zelda: Breath of the Wild at E3, they further surprised fans with a playable demo inside a fully realized display of Hyrule!
While the announcement itself got fans jumping for joy, Nintendo went above and beyond in making its display fun and memorable for fans who've poured hours of their blood, sweat, and tears into the games they love. Making your display focused on enjoyment and rewarding loyal customers will go a long way in crafting a memorable trade show display.
Best Use of Greenery: Sempre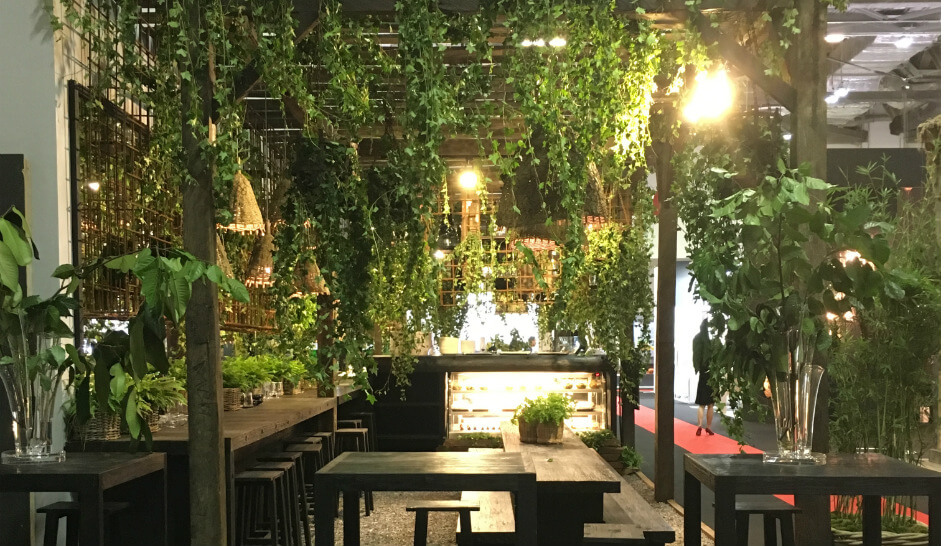 Showrooms are commonly dark and crowded affairs, and visitors often spend an entire day indoors. A little greenery can go a long way in drawing attention and can be refreshing to attendees after walking around the show floor all day long.
Sempre, a Belgian furniture retailer, created an all natural hanging garden cafe to create a calming and comfortable space for visitors; a trait many of the best trade show displays share.
Even if your business has nothing to do with gardening or outdoor activities, small potted plants can bring some life to your trade show display. Plus, the showroom can generate some funky smells; spruce it up with fresh flowers.
Best Hands-On Experience: Toyota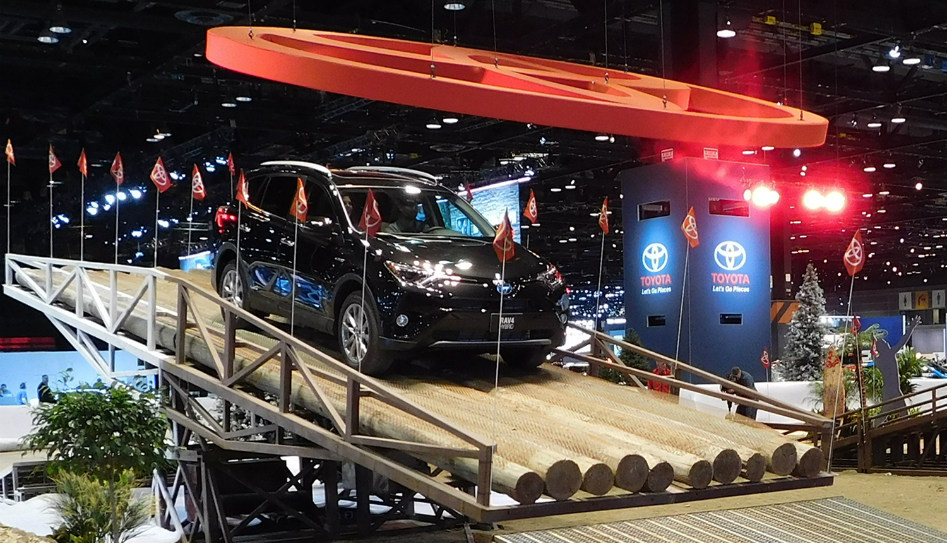 Toyota gives showgoers an adrenaline rush with its offroad driving course! Riders were able to experience the capabilities of new Toyota vehicles (with the help of a professional driver) while overcoming obstacles such as this giant lumber seesaw and steeply inclined ramps.
If you have enough space available, try to build a demonstration area and stage scenarios where showgoers can see your product in use. The best trade show displays often let customers get hands-on with products.
Best Product Showcase: Intel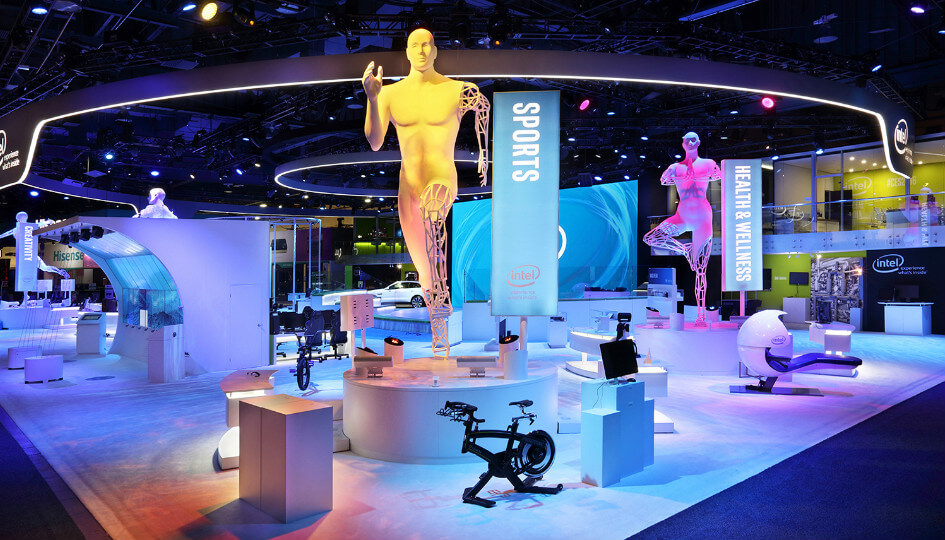 Intel displayed its line of new data measurement technologies in a futuristic tech display at the Consumer Electronic Show.
Intel's exhibit featured products that highlighted tech developments in four separate markets: Creativity, Sports, Gaming, and Health & Wellness. Showgoers could fly drones, take 360-degree videos, and interact with motion-tracking displays, all powered by Intel innovations.
Putting showgoers in situations where they would use your products in their everyday life is a fantastic way to demonstrate the value of your business in just one event.
Best "Wow!" Factor: LG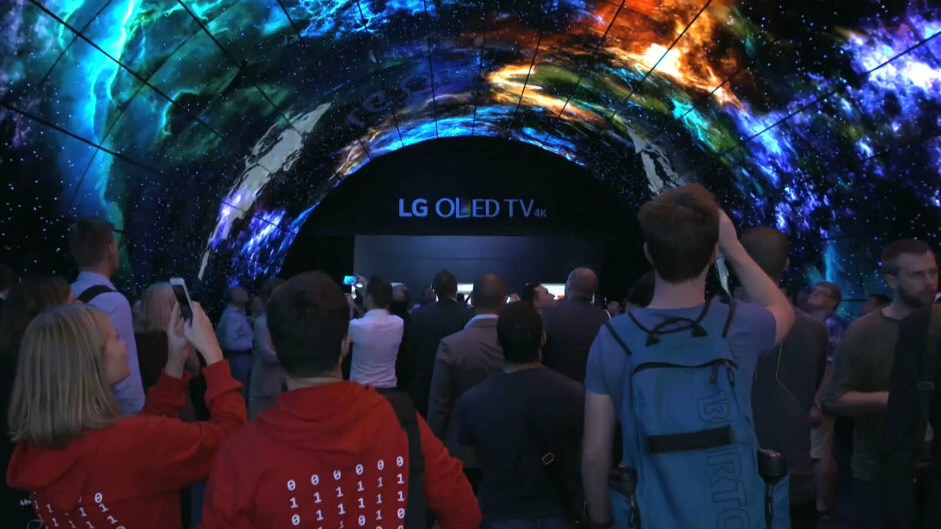 LG makes wonderful use of their high-quality screens in an awe-inspiring tunnel of displays. The colorful images of the cosmos make sense in regards to showing off the power of LG's 4K televisions and stands out against the monochromatic or all white displays of competitors.
That isn't to say your booth should look like a futuristic Jackson Pollock painting; try to find strategic uses of color that make sense for your business and really pop against the dark background of a show floor. LG cracks our list of best trade show displays because of its amazing blend of technology and color, showcasing the best its product has to offer.
Learn from the best trade show displays
There were many, many kick-ass exhibits to choose from for this article, but the ones listed here are just a few of our favorites. Ironically, it was often simple design choices that separated the best trade show displays from an average exhibit. Let's recap some tips that you can take away from these displays:
Use simple visual effects to grab attention
Philips and Studio Dega showed how simply using colors and bold graphics can help an exhibit stand out amongst a crowded show floor, while Intel demonstrated how technology and unexpected design choices can elevate your display to the next level.
Break up your display with something tangible
Creating a relaxing environment like the Sempre indoor garden or staging an experience like Toyota's test track will make your event memorable and gives customers hands-on experience with your product.
Designs can be fashionable AND functional
Designs like PharMerica's open show floor and 2K Games' jazz bar combine the best of excellent visuals and visitor satisfaction. Think outside the box on ways to improve showgoer experience through thoughtful design.
If you're looking for even more inspiration on how to design the best trade show displays, take a look at ExponetUSA.com for products that will step up your game at the next big convention.
The post "Top 10 Best Trade Show Displays of 2016" appeared first on Exponet USA.