M8 Charging Station
Bigger and stronger: The most widely used charging station today. Durable and designed for high traffic environments.
The customer's attention will be all yours to capture when they need to 'juice' up their phone or device. Goes Anywhere. Used Everywhere.
Product Features
Convertible design; Freestanding, Wall Mountable, Surface Mountable

8 charging connectors (3 Apple Lightning, 4 Micro USB, 1 USB Type-C)

Best in class, full speed, multi-device charging for up to 8 devices

Intelligent, energy efficient charging technology

Patented unibody design (Patent No. US D688, 201 S); METAL FABRICATION

Charges nearly 100% of mobile devices

Customizable billboard graphics; NOW WITH MORE BRANDING SPACE!

Fanless; No moving parts, no noise

1-year warranty; 1-year service plan

Made in the USA; Highly recyclable
Details:
Charging Station Dimensions: 18"W x 12"H x 6.5"D; NEW LARGER LEDGE

Dimensions with Floorstand: 18"W x 52"H x 16"D

Weight: 7lbs (wall mount); 37lbs (freestanding)

Adaptive Fast Charging Technology; USB BCv1.2 & USB-PD

Apple MFi Certified Cables & Technology; 2.4A per port; 19.2A total

Commercial grade charging connectors with enhanced strain relief

Quick setup; plug and play; requires 1 standard outlet
Great for convention centers, hotel lobbies, airport terminals – waiting areas of any kind.
Choose from 3 options, Standard, Pro & Deluxe: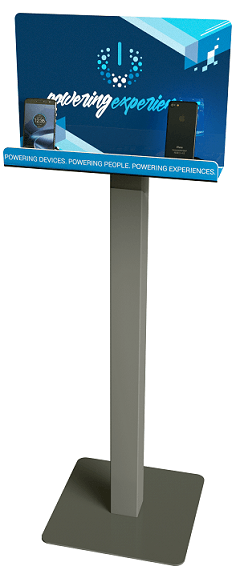 Lead Time: 3 weeks upon approval of graphic files.
Where's The Event?
Ground shipping times for the M8 Deluxe Charging Stations:
Dallas, Austin, Houston, Baton Rouge, Oklahoma, San Antonio: 1-Day

Atlanta, Santa Fe, Memphis, Kansas City, St. Louis, New Orleans: 2-days

Chicago, Denver, Omaha, Topeka, Albuquerque: 2-days

New York City, Orlando, D.C., Baltimore, Miami, Philadelphia, Salt Lake City: 3-days

Los Angeles, San Diego, Long Beach, San Francisco, Anaheim, Minneapolis: 3-Days


Boston, Charlotte, Phoenix, Cleveland, Lexington, Tampa, Pittsburgh, Milwaukee: 3-days

Las Vegas, Portland, Buffalo, Seattle, Reno, Hawaii, Boise, Syracuse: 4-Days
Conferences • Trade Shows • Networking Events • Retail • Reception Areas • Airports & Hotel Lobbies • Food, Beer & Wine Festivals • Recruiting • Medical Industry • Hospitality Marketing • Job Fairs • Demo Stations • Red Carpet Events • Press Conferences • Step & Repeat Media Walls • Logo Branding • Marketing Events • Graphic Design • Book Signings • College Fairs • ComicCon Events • Art shows • Corporate Events • Seminars