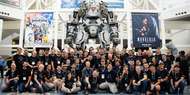 Your staffers represent you at expos so they can make or break your experience.
Are you ready for your next expo? Do you have your display ready to go and planes tickets booked? What about your staffers, have you picked them yet? Exhibitors often overlook how much staffers impact their expo experience, but, in all honesty, your staffers will either help you succeed or make sure your fail. This is because good staffers attract attendees and keep them both interested in your booth and your products. On the other hand, a bad one will do the exact opposite. Unhappy staffers will drive away potential customer and give your company and booth a bad reputation.
Make sure your staffers are the good kind by using these tips and tricks to pick the best people to staff your convention booth.
The Characteristics of The Best Booth Staff
I've always said there's a few things that make convention booth staffers great: a desire to be there, industry knowledge, and friendliness. The best staffers are both smart and kind. You want someone who knows their stuff and can politely tell other people about it all with a smile on their face
Want to Go
Start out by polling your staff to see who wants to go the trade show. Okay, you don't actually have to poll them, but you should figure out who wants to go before you start assigning people. Staffers who want to be at the show will get your company will go a lot farther than those who would rather be anywhere else. If someone wants to be at an expo, they'll really go the extra mile and do more.
Knowledgable
This may seem like a no brainer, but it's important. You don't want to put someone on the floor who's brand new. You want someone who knows the ins and outs of both your products and industry. Whoever you send is going to represent you and your company so make sure you're putting your best foot forward. If your staffers don't know your product, it'll give attendees a negative impression of your company, which nobody wants. You wouldn't send a Star Wars fan to a Star Trek convention right? So don't send someone who doesn't know the demographic they'll be working with. As a bonus, consider assigning those with marketing or sales experience to expos. Some of the best convention booth staffers I've ever had are those who've come from a marketing or sales background. They know how to work a crowd.
Friendly
Above all, whoever you have at your booth needs to be friendly. They should have a knack for small talk and a great smile. Leave the guy with the scowl at the office or at least pair him with your most chipper employee. It seems like common sense, but this is something a lot of people tend to overlook and it leads to booths getting a bad reputation and minimal traffic. Often times, attendees will be nervous or unsure of how to address those at booths. Make it easy for them by having your staff reach out and engage them. It takes the pressure off attendees, making them more likely to buy your stuff or invest in your company.
You've Picked Your Staff, Now What?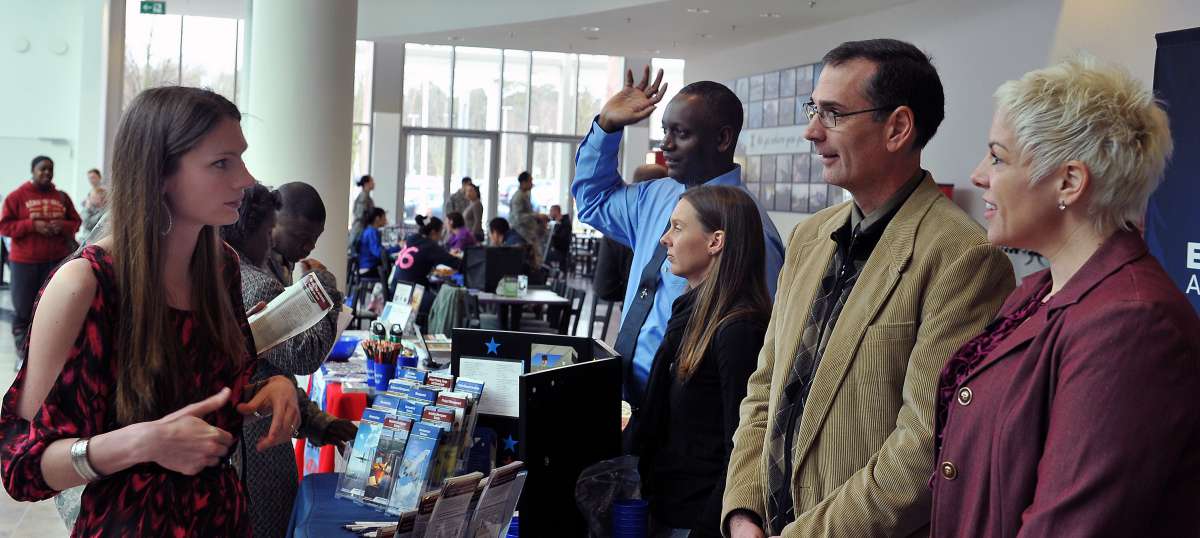 Your staff will be the worst at the expo if you just drop them off at the convention center with no guidelines, training, or support. If your staff fails, it's your fault so step up. Here are three things you can do to help them succeed.
1. Train Them
You have to train your staff. You can't just throw them off the diving board and expect them to be able to swim if you've never taken them to swim class. You're paying to exhibit, so don't let your money go to waste by letting your staffers drown due to a lack of training. Train your staffers on any and all equipment you're using such as your WiFi mobile hotspot or cell phone charging station. Make sure they know how to set it up, troubleshoot it, and use it. As well, train your staffers on any and all software you are using to make sales. If you send a staff to convention that doesn't know how to use your software to correctly take payments, you might as well just throw your wallet in the trash now.
2. Set Standards and Schedules
Everyone needs to be on the same page for the event to make the venture successful. To do this, you need to come up with a schedule and plan. Set up a process for getting the booth ready both when you get there and every morning after. Don't forget to plan for packing up as well. This is particularly particularly important if you're not going to be there to help out or supervise things because you will be unable to guide them at the convention. As well, come up with a standard of dress. You can either create a uniform or plan to all dress at the same professional level. You don't, however, want one staffer to show up in business professional and one to show up in jeans and a t-shirt, as it'll make the booth look disorganized. If your present a solid front to attendees, they'll be a lot more interested in what you have to say and sell.
3. Set Goals
Before you send your team out, sit down with them and brainstorm about what all of you want out of the experience. Decide if you want to focus on developing leads or selling a certain number of products. Ask them, as well, if they have any personal goals for the event, such as if they want to learn something new or gain more experience with something. Once you decide what you want, see if you can set a quantifiable goal. It will help keep your staff responsible and allow you to measure the success of the expo.
If your staffers have a hard time meeting the goals you set, you can review their performance to see what they can do next time to meet your company goals. As well, an inability to meet your goals may signal that the expo may not be the best fit for your business. Setting goals has all kinds of bonuses.
4. Give Them Support
You should support your team throughout the event. If you are there with them, offer to cover them for breaks or surprise them one day with coffee. If you're not at the expo with them, give them a small gift when they get back as a thank you for all their hard work.
If your staff knows you care for them, they'll be a hell of a lot more willing to go the extra mile for you. Comparatively, if you treat your employees like crap, they're not going to have any desire to help you succeed.
Basically, a Happy, Well-Trained Staff Equals Expo Success
Following these tips will help you pick the right staff to man your convention booth, but they aren't going to guarantee your staff will succeed. If you want them to do well, you have to help them. They can't do it all on their own. By the way, don't forget to give your staffers an awesome convention booth to man. Call me if you're ready to design the best banners, displays and signs at the expo. Remember, staffers are great, but they can't do anything without a booth to run.